This Oak Bluffs waterfront restaurant will delight anyone with a hankering for wings or fresh seafood
by Kendra Mills
Originally published on: http://www.thisweekonmv.com/coop-deville-food-with-a-view
Coop deVille, located harbor side in Oak Bluffs, is home to the island's finest, most flavorful chicken wings, served there for thirty years. Of course, the restaurant evolved throughout its years on the island, significantly expanding its menu to include seafood dishes and numerous craft beers, and has only grown more popular. The proximity to the picturesque Oak Bluffs Harbor surely doesn't hurt, as customers are seating only a few feet from the lapping water. Far from only a wing joint, Coop has blossomed into a local favorite for seafood and pub food.
Manager Austin Higgins spoke with This Week, saying, "It started as a chicken wing shack with no servers. You came to the counter to get your food. There was no beer or wine at the beginning. Now we sell six hundred pounds of wings a day and serve 75 beers."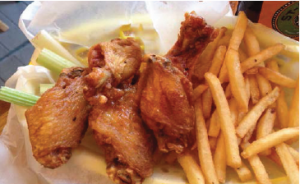 It is easy to see why people would flock to Coop de Ville. Wings are available in a variety of flavors including Cajun, Maryland, and Dragon Fire. The wings are crispy on the outside and tender on the inside and served with crunchy celery, blue cheese dip, and fries. The celery acts as a cooling agent to another-wise spicy plate. The french fries are salty and soft, providing a nice finish to the dish. The owner, originally from Maryland, brought several of his state's favorites to island, including the wings, Maryland crab cakes, Maryland soft shell crab, and Baltimore-style shrimp.
Beyond their tasty wings, Coop deVille serves a wide variety of seafood, including clams, oysters and shrimp at the raw bar. Customers might also sample fried oysters, grilled swordfish, and stuffed quahogs. All of the seafood is local, predominantly purchased from island fish markets. Other seafood menu items include the lobsters, which are wildly popular at the Tuesday night lobsterfest. Higgins states, "We have people fighting over tables, just to get a lobster for 15 bucks."
The Tuesday night lobster and corn special is not the only night that Coop deVille offers killer deals. On Mondays, customers can indulge in lobster rolls and fries for under $14, while on Thursdays, hungry individuals might seek out the dockside special portioned for two, comprised of lobster, steamers, mussels, corn, and chowder for $35.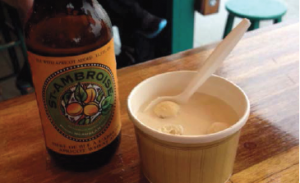 The atmosphere at Coop deVille is welcoming to both families, who can sit at long, low wooden tables, and adults hoping to get drink at their small bar area. The restaurant front opens onto the dock and has an awning to accommodate customers when it rains. When the sun shines, customers have an unparalleled of the Oak Bluffs Harbor. Food is served in easily disposable containers and, in the case of the lobsters, is accompanied by moist towelettes and bibs to make the whole affair less messy for the diner. Coop deVille is a surefire hit for adults and children alike during a visit to the town of Oak Bluffs.